…my new ham radio site.
The site's still very much in flux while I get the initial setup completed, so if you've stumbled across it this early you'll probably see pages appear and disappear. The layout could also be different here and there as I try to get everything working the way I want. There will also be some "just trying things out" posts early on as I experiment with the WordPress engine itself.
The possibilities for this site are endless. I plan on having info on me and my equipment and since I'm new to this hobby, I might be able to explain what I'm learning in a way that's particularly helpful for newer amateur radio operators.
Continents: Awarded Worked All Continents on October 2, 2015
States: 40 confirmed
"DXCC entities:" 55 confirmed
Number of prefixes contacted: 60+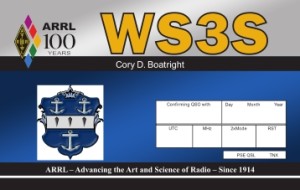 I only use two methods to QSL, the ARRL's Logbook of the World and direct. Generally speaking, I will send a QSL card to my first contact in a new locale (state/province, DXCC entity) or those that are particularly interesting (North Pole, Alaska!). I'm quick about sending the cards, so if you do not hear from me and want a QSL card, feel free to send direct with a SASE.
Note for Internationals!
If you are NOT domestic to the United States, I WILL PAY for your return postage. If you send a self-addressed envelope with your QSL card, I will take care of the stamp to get the reply back to you.